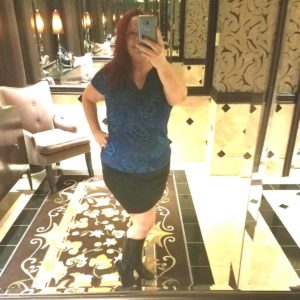 Once the pressure was relieved we had dinner.  He'd prepared dinner in advance – delicious Pinot Noir, ciabatta bread, greens and seared some steak.  It was simple but delicious. We ate in bed then cuddled together talking and catching up on life since we met last.  As conversation waned we started playing with each other and making out. Eventually he asked me to get a condom which I did.  Straddling him I put the condom on him and rubbed lube all over the condom and my pussy.  I got on him and alternated between rocking back and forth and bouncing my pelvis up and down sliding my pussy up and down his cock. It was so good!  At one point he turned up the heat by spanking my bottom making me yelp a bit.  Eventually he came in my pussy after I rode him for a long time enjoying his hard cock inside of me and I loved the feeling of his cock pulsating inside me.
After we cleaned up we snuggled and cuddled some more talking some more talking about current events and politics and economics. The whole time I played with his hair or massaged his neck and shoulders. We stayed naked in bed.  During a lull in the conversation he started kissing my breasts.  Then he kissed his way down toward my pussy.  After licking my clit for a bit he asked me to sit on his face.  I had him lay on his back and I straddled his face and leaned over and sucked on his cock while I was riding his face. As I sucked on his cock I played with his ass crack and his ass hole lightly teasing it with my finger tips and getting saliva all over it until he asked me to fuck his ass.
I got my harness on and put in a dildo. I had him sit on the edge of the bed and lean back lifting his legs into the air. Then I stood at the edge of the bed and held his legs in the air so his butt was spread wide open.  I gently fucked his ass first with my small dildo using it almost like a prosthetic cock enjoying the pressure against my clit with every penetrating stroke.  Once he was relaxed and opened up I offered to switch to my larger dildo and he accepted.  Once I had the larger dildo in my harness and the tip in his asshole I took that opportunity to get a little nasty by talking dirty to him and reaching forward to lightly smack his face and rest my hand on his throat until he came. After we caught our breath I gave him some sensual massage until he was about to fall asleep and he finally sent me home.
He had 3 climaxes!  I was pretty proud of myself😊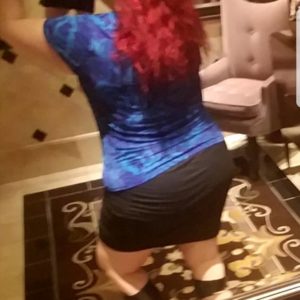 If you are interested in booking a session in Las Vegas with any or all of the following – conversation, intimacy, cuddling, snuggling, massage, kissing (DFK – Deep French Kissing), oral sex (DATY – dining at the Y or pussy eating, blow job, BBBJ ~ bareback blowjob, CIM ~ cum in mouth, face sitting), dinner date, GFE, full service, strap-on play (pegging), BBW escort, mature escort, redhead escort – make sure to email me at lvmasseuse@gmail.com or text me at 702.236.1975 and we will get our session on the calendar.