We met at his hotel on the strip so I could drop my things off in his room.  When I walked in we greeted each other with a warm hug and kiss.  He was fresh out of the shower and asked if he had missed any hairs shaving his head.  He had so I offered to shave them for him.  I do enjoy grooming people!  I shaved the missed hairs and he took me up on my offer to go over the rest of his head for a super close shave.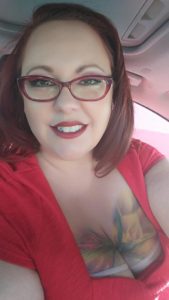 Once he was finished getting ready we left the room to walk to another property to go see a concert.  Walking down the hall I took the opportunity to thread my arm through his.  For the rest of the night whenever we walked we were either arm in arm or hand in hand.
We spoke freely about anything and everything as we went and got a simple dinner of burgers and beer.  Then on to the concert.  We were super early so we continued to talk and touch while we got drinks at the bar and looked around.
The show was really good!  I don't get to see many shows even though I live here in Vegas.  The seats were close together which was just fine because it created a 2+ hour cuddle for the 2 of us.
We walked back to the hotel room where I excused myself to go 'put on something a little more sexy'.  I took the time to shower and refresh myself.  I put on some lingerie – a cupless bra, garter belt and thigh high stockings.  I finished the outfit off with sexy high heels.
It was so fun to watch his expression as I walked out of the bathroom.  He was sitting in a chair wearing only his boxers and as I strutted over to him he stood up already very aroused.  When I got to him I sunk to my knees, pulled down his boxers, and started using my mouth.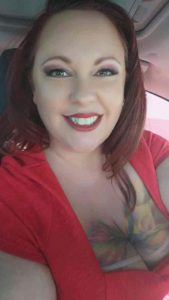 I love being in that position alternating between deep throating and looking up into his eyes.  After a bit I suggested we move to the bed.  I stood up and turned away from him to begin climbing on the bed.  As soon as I was on my hands and knees I looked back at him to make sure he saw that my booty was pointing at him and I wasn't wearing any panties.  He did and almost immediately he was on me licking my asshole and pushing his tongue into me.  At some point I lowered my chest to the bed thrusting my pussy in his direction and he started to tongue my hole and lick and suck on my clit.
After he had licked me through a couple of intense peaks of pleasure I invited him to lay on the bed, face down.  Starting at the back of his left knee, I slowly and deliberately kissed and licked my way up the back of his thigh toward his butt.  When I got there I dropped down and repeated the slow kissing and licking from the back of his right knee up to his right butt cheek.  This time though I place loud kisses all over his butt cheeks each one a bit closer to his butt crack than the last.
Once I got to his crack I gently spread his butt cheeks and let him feel my breath on his asshole alternating between cool blowing breath and warm open mouthed exhales.  Then I began kissing again.  Closer and closer to his rosebud until he got one kiss right there.
I switched to licking.  Light little kitten licks.  Again working my way from the outside in.  Going across his butt crack from one cheek to the other and from his tail bone to his perineum.  After covering the entire area excluding his anus I went over it again with longer heavier licks.  Finally my tongue touched his rose bud and I went  S U P E R  S L O W  so he could feel the heat and pressure of my tongue sink in as I felt the folds of his pucker pass exquisitely under my tongue.  As the excitement built I increased my speed.  As my enthusiasm came out I got to the point of alternating between tongue fucking and sucking and lightly biting.
Eventually I wanted his cock in my mouth again.  I asked him to turn over and I sucked and licked on him, drooling all over him pornstar style.  I loved looking up to make sure he was watching knowing that he was seeing my sloppy cocksucking face devouring him.  At times I switched to stroking his cock using all that saliva as lube so I could lick and suck on his testicles.
His balls were getting tighter as his cock was getting harder.  It was so good to express how much I was enjoying it!  I would rub his slimy wet cock all over my cheeks and chin as I explained how much I was looking forward to feeling his hot cum on my cheeks, my lips, and my chin.  I also told him I wanted to see if the rest of his load tasted as good as his pre cum.
It did!  He came so good and hard!
Once he was done with a long set of orgasmic contractions followed by some full body convulsions I made sure he got a good look at the cum on my face before I got up to clean up and get him a towel.  I gently dried off his groin area and made an offer to cuddle which he accepted.
Lying down next to him I started to take off my thigh highs when he notice – my hot high heels!  We laughed because it struck us as funny – probably because we were so high on oxytocin from the great sex.
After awhile we came down.  I made sure he felt complete before I got up to get dressed.
I'm grateful to have had such a wonderful experience.  It was like a full date night.  It was a little longer than the 5 hours but that was fine with me – the entire time was very fun, intimate and connected.  I was able to be myself and make a new friend while at the same time happily fulfilling some of his sexual fantasies.
I can't wait to see him again next year!!!