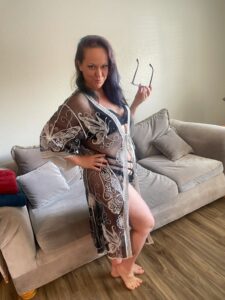 I had a super hot session with a squirting enthusiast! It was even surprising because he was very talented with his tongue! We started off the session by getting to know each other. He wanted me to come over as early as possible 1st thing in the morning, so he said he was okay with me coming right after my morning workout. I was still wearing my workout clothes when I arrived, lol. After we talked a little bit, I took a rinse-off shower. When I came back into the room, I leaned over to get something out of my suitcase, and he got behind me and started licking my ass hole. We stayed in that position for a long time, with me bent over and him licking up-and-down my asscrack, getting into my ass hole, and working his way down into my pussy. Eventually, I suggested we moved to the bed. I was face down on the bed, and he spread my butt cheeks and ate my ass more. I lifted my butt a bit into the air, and he proceeded to lick my pussy as well. Every once and a while, he would take a break from licking and pull back and look at me with my legs spread in front of him. I loved the feeling of his gaze on me. I reached back with my hands and spread my butt cheeks wider so that he could look and I talked dirty about what a little slut I was with myself spread wide open for him to do whatever he wanted to (I enjoy talking about how nasty and naughty I am when my partner likes to hear it during play time). I kept getting wetter and wetter as he did all different things with his hands and mouth. Eventually, I started gushing. He mentioned that he wished he was drinking it. I said that would be fine with me and told him to lay down with his head at the edge of the bed.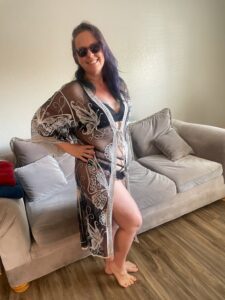 I straddled his face, and he started eating my pussy. It felt so good! I would slide myself against his tongue, all away from pubic bone to tailbone and back again up-and-down. Then I started playing with my clitoris while he was licking inside my vaginal opening, and I started squirting right into his mouth! I love the feeling of someone drinking juices straight from my body! It was feeling so good and intense! I wanted to be even more connected with him, so I leaned forward and took his cock into my mouth. I tried to go slow and gentle and make it last as long as I could, but he could not hold back an intense climax that brought me to another peak as well. I did not want to break the connection, so I stayed sucking on his dick as I sucked the come down my throat!
:::
Please do let me know if you are in Las Vegas or coming to Las Vegas and would like to experience:
full body sensual massage (FBSM)
Tantra (lingam, yoni, and sacred spot massage)
prostate massage
a girlfriend experience (GFE)
strap-on/pegging
receive oral from me (BBBJ) aka cock worship and/or rimming (DATO)
lick my pussy (DATY)
play with sensation and explore fetishes

light bondage
facesitting
kinky massage/bondassage
FemDom
role play
spanking
impact play
water sports
feminization
CBT
We can go super slow and sensual using tantric techniques or have more aggressive, rough sex.
I can come to you (outcall, in-room massage), or you can come to me (incall).
Please take a moment to look at all of my offerings at https://www.lasvegasmasseuse.com/massage-plus-and-full-body-sensual-massage/
Make it a sexy day!
Nikki The Las Vegas Masseuse
7022361975 (text is best – at least at first)
lvmasseuse@gmail.com