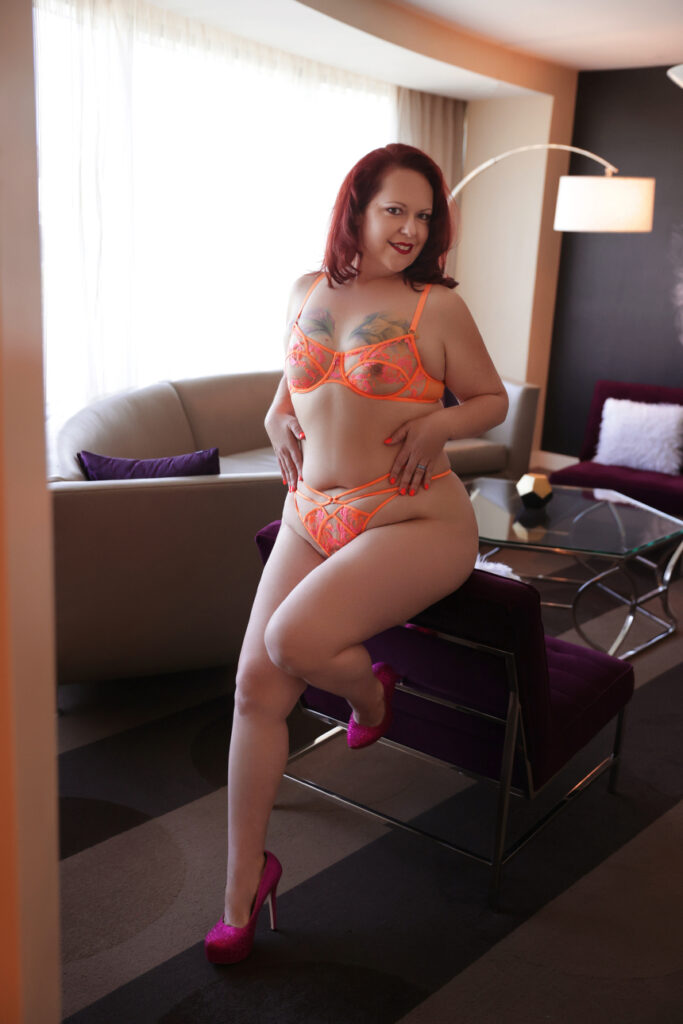 I love that I have several client friends who come in for the World Series of Poker every year and make sure to put me on their itinerary!
This morning I got to see an individual I have known for several years, and today we were able to go more deeply into the pleasure and sensation than ever before.
We started with the standard Swedish-style massage all down his back body. I have a special move I do for those who like deep pressure that I am able to do again since I have my new hip (I had my right hip replaced in May 2022).
After massaging the entire back of his body, I climbed on the massage table between his legs and put my knees onto his glutes. Then I slid around on him, first down the backs of his thighs, then up his lower back.
After a few minutes, I spun around and used my knees to massage his upper back. This is a great sensual way to get deep tissue style massage. I finished with one more slide down the backs of his thighs.
For the anal massage and prostate massage, I sat between his legs as he was still face down. I massaged his butt crack and groin, where his inner thigh meets his body. I pulled down his cock so I could easily access it – it was already completely hard!
I know he enjoys a variety of anal stimulation and pelvic floor work, so once I massaged his sphincter open and penetrated him, I meticulously massaged his pelvic floor from the inside out.
Imagining the face of a clock, I started with my left index finger at 6 o'clock, right on his prostate. I massaged at that position, going deeper and then more shallow. I repeated the process up his right side, going from 6 o'clock to 5 o'clock and so on, until I reached 12 o'clock and was massaging his tailbone. Then I switched to my right index finger and repeated the whole process on the left side of his pelvic floor.
He had mentioned he still liked CBT (cock and ball torture) and that he would definitely like some attention on his balls. With his anus opened up, I started massaging his prostate and slowly adding fingers to stretch his sphincters with one hand. At the same time, I got a good grip on his testicles with the other. I circled my index finger and thumb around his scrotum with his testicles positioned away from his body. This way, as long as I maintained my circle, I could slowly pour on the pressure and pull his testicles away from his body. I love the feedback loop that is created from intense sensations like this.
I would pull his balls away from his body until I felt his scrotum was completely stretched out, then pull it first to one side and then another, shifting the direction of the stretching. All the while, I was stretching his anus, slowly adding fingers in between strokes on his prostate. I eventually got up to 4 fingers!
I knew he was ready for more stimulation, so I put a condom on my Njoy wand and slid it into his butt.
Using that, I could give very firm pressure to his prostate while still tugging on his scrotum for maximum stretching. He was loving it, moaning, lifting his hips off the massage table. I could tell (and he later confirmed) that I was taking him to the edge of what he could endure, that the sensation was on the edge of pleasure and pain. He stayed with it, with me keeping him on that edge, and I was able to milk his prostate with the wand, even with his testicles pulled away from his body!
After giving him a minute or two to catch his breath, I offered him more massage since he still had a little time left. He said he thought he could still cum, so I proceeded to perform all my favorite cock massage moves with ball stretching thrown in! He was right – he was able to cum, and the first shot out of his cock caught air – maybe 6 or 8 inches! He continued to cum, letting out a huge load that drenched my hand and wrist and his entire pubic area.
I love that I was able to provide that much pleasure and sensation to him😊  I'm also grateful for the annual World Series of Poker that brings him here every year.
:::
:::
Please do let me know if you are in Las Vegas or coming to Las Vegas and would like to experience:
full body sensual massage (FBSM)
Tantra (lingam, yoni, and sacred spot massage)
prostate massage
a girlfriend experience (GFE)
strap-on/pegging
receive oral from me (BBBJ) aka cock worship and/or rimming (DATO)
lick my pussy (DATY)
play with sensation and explore fetishes

light bondage
facesitting
kinky massage/bondassage
FemDom
role play
spanking
impact play
water sports
feminization
CBT
We can go super slow and sensual using tantric techniques or have more enthusiastic, aggressive, and even rough sex.
I can come to you (outcall, in-room massage), or you can come to me (incall).
You can find all my rates at Las Vegas Masseuse – Therapeutic, Sensual and Kinky
Make it a sexy day!
Nikki The Las Vegas Masseuse
7022361975 (text is best – at least at first