This has been a great week!  I finished off the week with a super hot session yesterday.  I will write about that another time but for today I want to share a few things about me that you may not know.  I have been in customer service and sales types of positions for most of my life with the exception of 5 years when I was a technician (stage hand).  I have met A LOT of people (I'm turning 40 this month so I've been in the work force for about 24 years).  I used to be able to remember everyone surprisingly well.  About 5 or 6 years ago that changed.  I couldn't remember new people unless I saw them several times or if something very unique happened during our session.
The Challenge
This creates a bit of an awkwardness because I know that for my partners our sessions are almost always unique.  For them, they are often experiencing new things for the first time, oftentimes completely expanding their brain from having had such an intense experience with me.  For me, however, I facilitate and participate in these intense experiences often (usually several times a week), so that does not make it unique for me.  I sometimes wonder if I've hurt a partner's feelings for not having remembered our last session.
The funniest thing that has happened with it is that since I am very honest and consistent, I will say similar things and have similar reactions from one session to the next.  I had one session where my partner did try to get me to remember our last session together with no success.  Then, when we were ready to get started, he took his clothes off very efficiently.  I made a comment saying something like, "Wow, you are ready to go right away!" and he laughed because I had said the exact same thing at the beginning of our last session.
The Explanation
This issue can be explained by something called Dunbar's Number.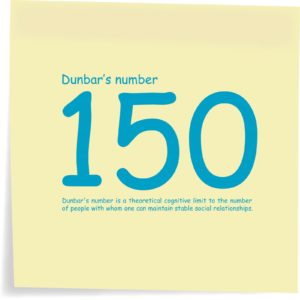 According to wikipedia:
"Dunbar's number is a theoretical cognitive limit to the number of people with whom one can maintain stable social relationships. These are relationships in which an individual knows who each person is, and how each person relates to every other person. Proponents assert that numbers larger than this generally require more restricted rules, laws, and enforced norms to maintain a stable, cohesive group. No precise value has been proposed for Dunbar's number, but a commonly cited approximation is 150."
I feel this issue is both a help and an hindrance.  It is a help because my partners never have to worry about me sharing their personal details.  Not that I ever have, but now I generally can't since I don't remember them.  Even though I know it would be better customer service for me to keep notes and records I don't do that because I would never want those to fall into the wrong hands and expose my clients.  The hindrance is as I've explained above – I can't always remember the details of our play from one session to the next and that can come across as impersonal and uncaring which is the opposite of how I want to be.
The Solution
First and foremost, patience and love.  Not romantic love, but love for each other as fellow human beings.  For me that includes assuming the best of intentions unless otherwise indicated.  Being honest, practicing transparency and having integrity.  It is easy for me to do this because I hold these values very high and operate my life using them to the best of my ability.
The other solution is for those who really like me to see me more often.  Once I see a person several times I usually start to remember them and details about them.  If I see a person once a month or more then I am able to really start developing a relationship and that does feel really good.  The other benefit of repeat sessions is that each session builds on the last as we learn each other's preferences and boundaries.  Also, trust increases and that allows for more experimentation and exploration during our time together.
Question
I'm considering adding to my offerings.  Please let me know what you think or if you would be interested.  You can email me at lvmasseuse@gmail.com or text me at 7022361975
Phone sessions:  $100 for up to 30 minutes.
Webcam sessions:  $180 for up to an hour
Both of these could be recorded for you to enjoy again to add to your erotic library.
:::
Please do let me know if you are in Las Vegas or coming to Las Vegas and would like to experience:
full body sensual massage (FBSM)
prostate massage
a girlfriend experience (GFE)
strap-on/pegging
receive oral from me (BBBJ) aka cock worship and/or rimming (DATO)
lick my pussy (DATY)
play with sensation and explore fetishes

light bondage
face sitting
kinky massage/bondassage
FemDom
role play
spanking
impact play
water sports
feminization
CBT
We can go super slow and sensual using tantric techniques or have more aggressive, rough sex.
I can come to you (outcall, in-room massage), or you can come to me (incall).
Please take a moment to look at all of my offerings at https://www.lasvegasmasseuse.com/massage-plus-and-full-body-sensual-massage/
Make it a sexy day!
Nikki The Las Vegas Masseuse
7022361975 (text is best – at least at first)
lvmasseuse@gmail.com