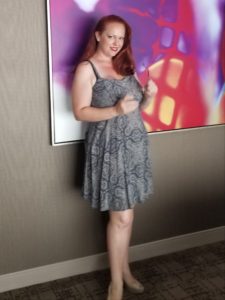 I received a text from someone looking for a session. When he said he wanted a massage with the works and that he was kink friendly, I became a bit intrigued. I got his information to verify him and called through the hotel operator to make sure everything lined up. It did – and he was in the room and answered the phone. We spent a few minutes talking about his kinks. He said he liked a woman to take charge and that he was interested and tease and denial. Boy did he get it!
I arrived on time. I stripped off my dress and bra, leaving only my panties on. We started the session with some massage to relieve some pain in his hip. Yes, I am good at massage – some have said they received better bodywork from me than they did from the fancy spa in the hotel they were staying at. I take my time and work deeply if necessary while infusing each stroke with care and attention. I found the knot that was causing the problem and rubbed it out while we talked and got to know each other a bit. I love meeting people from all over the country and the world and discussing the similarities and differences between places.
Keeping him face down, I switched to light touch and using a slow, deliberate pace (tantric style) I gently ran my fingertips down the backs of his legs and up again teasing his groin and ass crack as I did. Then I repeated the teasing up-and-down the backs of his legs and his ass crack with my breath, my lips, and my tongue. I spent extra time licking all around his ass hole and rimming him. Pulling his cock back, I licked all around his scrotum and sucked on the head of his dick as well. He was getting super aroused, and I felt it was time to take the teasing to another level.
To Be Continued…
:::
Please do let me know if you are in Las Vegas or coming to Las Vegas and would like to experience:
full body sensual massage (FBSM)
prostate massage
a girlfriend experience (GFE)
strap-on/pegging
receive oral from me (BBBJ) aka cock worship and/or rimming
lick my pussy (DATY)
play with sensation and explore fetishes

light bondage
face sitting
kinky massage/bondassage
FemDom
role play
spanking
impact play
water sports
feminization
We can go super slow and sensual using tantric techniques or have more aggressive, rough sex.
I can come to you (outcall, in room massage) or you can come to me (incall).
Please take a moment to look at all of my offerings at https://www.lasvegasmasseuse.com/massage-plus-and-full-body-sensual-massage/
Make it a sexy day!
Nikki The Las Vegas Masseuse
7022361975 (text is best – at least at first)
lvmasseuse@gmail.com