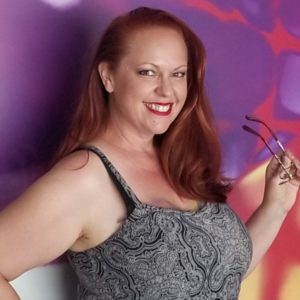 I had him roll onto his back. I climbed up on the bed next to him, and when he started to reach toward me, I told him no – that I was in charge and that he was to stay still unless I told him otherwise. I then proceeded to straddle his face. I enjoyed the feeling of his hot breath on my pussy coming through my panties. I kept my pussy a couple of inches away from his face and used my hands to tease and gently touch his torso and groin area getting closer and closer to his cock with every pass without touching it directly. He was rock hard, and some precum was dripping out of the tip. I touched the precum and traced the head of his cock with my fingertip using it as lubrication.
I got so turned on that I pulled my panties to the side and had him lick my clitoris and pussy lips. After a sweet peak of sensation, I got off of him. I had him roll over onto his stomach again and began teasing his asscrack and his asshole eventually licking it and teasing his cock from behind as well. He was getting harder and harder, and his cock was getting red. I was also getting more excited the more we played, so I had him roll back onto his back. I joked that I was slow cooking him.
I took my panties off, climbed up on the bed and sat on his face. I ground my pussy into his face and rocked back and forth a bit, enjoying the pressure and the different sensations of sliding over his nose, tongue, and chin. When I was ready, I leaned forward and kissed all around his cock, teasing him with my hot breath until finally taking his cocking to my mouth but just for one stroke. Sitting straight up again, I had him situate himself so that I could move my bottom directly over his mouth. He began to enthusiastically lick my asshole. I rocked my body back and forth a few times, feeling his tongue lick me from back to front and from front to back again and again. I was so completely aroused that I leaned back, keeping his tongue in my asshole and started playing with my clitoris. I used my free hand to guide his hands to my breasts so he could gently squeeze on my nipples while I continued to sit on his face and masturbate. I felt a colossal climax building, and I couldn't help but grind on his face a little harder. I loved feeling him gasp a bit as his breath was hotter and more forced against my pussy and ass. Finally, I had an exquisite orgasm with both his hands on my boobs and his tongue inside my ass hole.
To Be Continued…
:::
Please do let me know if you are in Las Vegas or coming to Las Vegas and would like to experience:
full body sensual massage (FBSM)
prostate massage
a girlfriend experience (GFE)
strap-on/pegging
receive oral from me (BBBJ) aka cock worship and/or rimming
lick my pussy (DATY)
play with sensation and explore fetishes

light bondage
face sitting
kinky massage/bondassage
FemDom
role play
spanking
impact play
water sports
feminization
We can go super slow and sensual using tantric techniques or have more aggressive, rough sex.
I can come to you (outcall, in room massage) or you can come to me (incall).
Please take a moment to look at all of my offerings at https://www.lasvegasmasseuse.com/massage-plus-and-full-body-sensual-massage/
Make it a sexy day!
Nikki The Las Vegas Masseuse
7022361975 (text is best – at least at first)
lvmasseuse@gmail.com