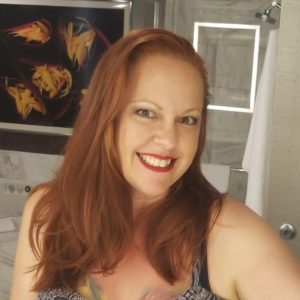 I had cum on his face so hard that I needed a couple of minutes to catch my breath and recover. When I was ready I turned my attention to him and his cock. I began giving him more consistent intense stimulation using both my mouth and hands. I got super sloppy and wet with my blowjob and used the saliva as lube for my hand. I wrapped my hand around the base of his cock and used it as an extension of my mouth as I bobbed up and down. Keeping my hand on his cock, I licked all around his testicles and perineum. After a bit, I returned my mouth to his cock.
I got him worked up to the point that he asked if he could cum and I said no. I took my attention off his cock for a bit, lightly touching him on his chest, belly, and thighs to let the sensation dissipate a bit before going back to his cock. After a couple of minutes of this, I returned my focus to his cock, rhythmically sucking and stroking him, drenching his groin with saliva, building up the tension again, until he asked again if he could cum. I said no and I stood up to put some space between us and he asked me (practically begged) please don't leave him like that. I told him to turn over on to his stomach one last time.
Sitting behind him between his legs, I oiled up his ass crack, cock, and balls, and started working my finger into his ass hole while I stroked his dick. Keeping my finger against his prostate, I gave his cock quick, consistent strokes building up the tension and intensity. Periodically I would pause my stroking, creating a plateau and allowing the sensation to dissipate just enough to stop him from going over the edge. I repeated this process 3 or 4 times getting him closer to climax each time. When I sensed that he could not hold out much longer I decided to keep stroking until he came in my hand with my finger up his ass.
We had 10 minutes left so I gave him some more massage on his back and neck while we talked about our plans for the rest of the day. It was a lovely way to spend a Friday morning!
:::
Please do let me know if you are in Las Vegas or coming to Las Vegas and would like to experience:
full body sensual massage (FBSM)
prostate massage
a girlfriend experience (GFE)
strap-on/pegging
receive oral from me (BBBJ) aka cock worship and/or rimming
lick my pussy (DATY)
play with sensation and explore fetishes

light bondage
face sitting
kinky massage/bondassage
FemDom
role play
spanking
impact play
water sports
feminization
We can go super slow and sensual using tantric techniques or have more aggressive, rough sex.
I can come to you (outcall, in-room massage), or you can come to me (incall).
Please take a moment to look at all of my offerings at https://www.lasvegasmasseuse.com/massage-plus-and-full-body-sensual-massage/
Make it a sexy day!
Nikki The Las Vegas Masseuse
7022361975 (text is best – at least at first)
lvmasseuse@gmail.com