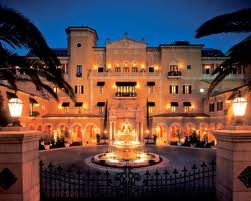 I hate to admit it but these sessions were so hot that I have to.  Sometimes I'm a little submissive.  Not like my girlfriend Telly… but still…
I was escorted by a butler to his luxury suite.  I walked in and he'd had a massage table brought in for me:)  He wanted a shower with me first.
I stripped and got into the shower with him.  After I soaped myself up and rinsed off I began lathering him up.  I love variety and he definitely brought it!  He may be one of the tallest people I've ever been with – my eyes only came up to his nipples!
As I rubbed the soap down his back and into the crack of his ass he arched his back and I stuck my finger tip into his rosebud and gently cleansed all the folds of his anus.  Then I walked around to his front side and crouched down to suckle on his cock a little bit.
He rinsed off and we moved to the table.  The entire time he was face down he was talking to me asking for all the dirty details of the nasty naughty things I do with clients.  I massaged his back, neck and legs.  As I finished with each glute I leaned over and licked his rosebud with long soft tongue strokes.  He moaned and wiggled his butt back and forth and I licked a little harder before pulling away and going on to massage the rest of his leg.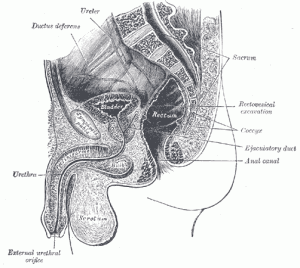 Once I was finished with the whole back side of his body I put on gloves and focused in on his anus.  Inserting my fingertip between the inner and outer sphincters I gently pressed outward in every direction helping him to relax and stretching him a bit.  I slowly sank my finger all the way into his asshole and curled it so the tip was touching his tail bone.  This drove him absolutely crazy and he was humping up and down against my finger.  I responded by massaging his sacrum gently at first and then a bit more vigorously.  I proceeded to massage the entire pelvic floor and in his aroused state he moaned and ground his pelvis through every minute of it.  I lingered at his prostate adding a second finger after awhile to intensify the stretching sensation in addition to the penetration.
Eventually he ordered me to the bed and told me to bring condoms.  He lay on his back and I rolled a condom onto his rock hard cock and rubbed lube all over it.  I climbed up on the bed and planted one foot on each side of his pelvis and began riding him.  I thanked him for letting me fuck his big hard cock.  After a bit he told me to turn around so he could watch my ass as I rode his dick.
Once I was turned around I rode him a bit but before long he was telling me to put his cock where I knew I wanted it and I said I wasn't sure I could take it.  He said I could and I would.  I grabbed the lube and as I continued fucking him I applied it to my ass cheeks and put it into my asshole using one finger and then two trying to stretch myself out so that I could take him in.
I got a little to aggressive riding his cock and on one of the strokes it popped out of my pussy and he told me to put it in my ass now.  I said I still didn't know if I could take it and he just said yes I could and to be a good girl for daddy so I took it in my hand and massaged all over my asshole with the head.  As soon as I felt myself loosening up for him I slowly lowered myself.  I got the head in and felt myself stretching and just stayed there breathing.  Then I slowly begin slipping it in and out allowing it to go a little deeper with each stroke.  Eventually I was pressed all the way against him and I could feel his pubic bone on my tailbone and his nuts on my pussy.  I began to grind against him as I played with my pussy.  I asked him to hold still until I got used to him inside my tight ass and he did until he couldn't take it any more and started fucking up into me.  I could feel him sliding in and out faster and faster and stimulating my pussy walls at the same time.  I asked him if daddy liked fucking my little ass and he said yes I was being a very good girl.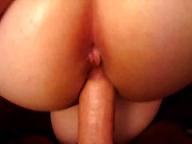 He told me he was ready to do me doggy style so I got up and assumed the position.  Since I was already acclimated to his cock he was able to slide it right in and grabbing my hips on either side he began pumping in and out of my ass.  I was enjoying it so much I said "fuck me harder daddy" as I reached to rub my clit at the same time.  He did and I came as he was ramming his cock into me.  My orgasm made him ready to cum and he told me he was going to cum on me.  He pulled out and took the condom off.  He ran his cock up and down the crack of my ass a couple of times and then I felt his warm cum all over my ass, back and neck!  He shot all the way up to my neck!
Our time together was so hot that he called me back today:)
He requested that I wear something sexy today:)  I wore a satiny black blouse with a miniskirt and heels.  Underneath I had on crotchless pantyhose, lace undies and a cupless bra.  When I arrived at his suite of rooms he stripped and laid on the table face down right away.  I took off my shoes and my shirt and rubbed down the back of his body.  Then I did a thorough anal massage on him again and again he loved it.  The whole time we talked about all the people I had fucked since the last time he saw me. He ran his hand up and down my leg and of course found out about my crotchless nylons when his hand went up my thigh:)  As he was getting more and more into my anal treatment he was grabbing my ass cheek and then cupping my pussy.  I was trying to grind against his hand too but he kept his touch light and teasing.
Finally he couldn't take it anymore and got onto his back.  I stripped off my skirt and panties.  I bent over and started giving him the best blow job I could and he told me it was like I had a pussy in my mouth.  I put one foot up on the table so I was spread open for him to play with my pussy and my ass while I continued to give him a sloppy wet blowjob and tickled his ass with my other hand slipping in fingers randomly here and there.  He told me to go get a condom and I asked if I could fuck him on the table.

I put the condom on and lubed it up.  I climbed on the table and sunk my pussy down onto his ridged cock.  I began to pump up and down and telling him thank you, thank you daddy for letting me have your cock.  I told him about how I could feel it stretching my pussy lips wide open and filling every inch of me.  I had my boobs squished together and I said I just wanted to make daddy happy because he was making me feel so good.  I changed my position a little bit and began grinding my pelvis against him a little slower and told him how I could feel daddy's hair rubbing against my little clit and how grateful I was that he was letting me go so slow so I could feel every bit of him going in and out of my cunt.  I was squeezing and pushing with my pussy muscles and he was really enjoying it.  He told me he wanted to go to the bed and and I begged him saying no daddy please don't make me take your cock out of my pussy because it feels so good.  So he put his hands on my hips and started fucking up into me.  I came right away and then I could feel his hot cum filling up the condom as he squirted and squirted into it.  I climbed off of him and admired the cream that was all over his balls from my pussy:)
Writing that was so hot that I have to go play with myself now!  I hope you enjoyed it:)