He wanted to explore being a little submissive.  We started with some back massage and talked until I became completely clear on what his desires were.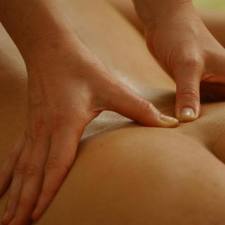 I massaged his glutes and thighs.  I slipped my hands between his ass cheeks pulling them from front to back over and over.  I massaged all around his sits bones and both his sphincters.  I rubbed up and down his tail bone and sacrum paying special attention to the notches I could feel there.  I stroked down his perineum toward his scrotum using an extremely gentle and teasing touch arousing him to the point where he was lifting his pelvis and sticking his ass in the air.
I spread his ass cheeks and licked his entire anal area.  I did sweet circles around his sphincter and long wet strokes from the base of his scrotum to the tip of his tail bone.  I pulled his cock down so it was pointing the same direction as his legs.  I nibbled on his scrotum, sucked pulling the testicles inside into my mouth one at a time at first then both together.
Leaving a wet trail of saliva as I went, I tongued my way down to the tip of his cock.  I spent extra time swirling my tongue around the sweet spot at the back of the head before taking the entire head of his cock into my mouth and alternately sucking it and swirling my tongue all the way around it and sticking the tip of my tongue in the slit.
I went back to licking in between his ass cheeks as I put on gloves.  Once they were on I slowly teased his outer sphincter, pressing in every direction, slowly sinking my finger tip in to the first knuckle.  I applied more oil and using my fingertip I pushed it into his anus again and again making sure every fold was completely lubricated.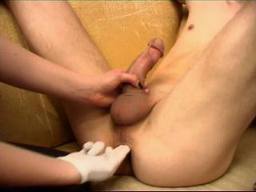 Sinking my finger deeper, I curled it around his tailbone and massaged his sacrum from the inside.  I tugged on his cock with my other hand as I stroked the back wall of his ass.  I slowly rotated my finger stopping frequently to stroke the walls of his pelvic floor.  Eventually my finger came to his prostate.  I pressed in against his prostate, then I swirled my finger around the edges of it massaging it from all angles.
I was ready to work on his cock some more so I had him role onto his back.
I massaged the front of his thighs, his entire groin area (avoiding his cock) and his abdomen.  Finally my fingers reached his hard cock and gently and teasingly I explored every part of it finding where he was most sensitive and responsive.  Then I lowered my face so my mouth was right in front of his dick head and opened my mouth and exhaled warm wet breath onto it as I watched his face.  As my exhale ended he relaxed his head back onto the table.  The anticipation had built to a breaking point.
Opening even wider I sunk my head down until his cock was as deep as it could go down my throat.  Then I carefully wrapped my lips, cheeks and tongue around it and started bobbing up and down.  At the same time I pressed my finger into his asshole and pressed into his prostate.  He was enjoying it so much I slowly added a second finger.  He felt like I was totally stuffing his ass but he was so aroused that it felt good.  While I continued using my mouth to slobber and slide up and down his cock I used my fingers to alternately finger fuck him, massage his tailbone and massage his prostate.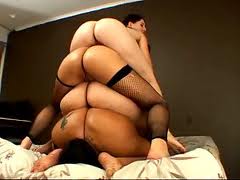 He said he liked eating pussy so I stopped what I was doing, walked to the head of the massage table and climbed up, placing my pussy in front of his eager face.  I was completely swollen and wet and as I straddled his face it was easy for him to find my clit.  He did an excellent job of tonguing me as I leaned forward and sucked his cock.  I also reached up and put a finger in his ass.
The erotic energy was building and I could tell he was approaching an orgasmic state.  I told him he had to ask before he could cum.  About a minute later he asked.  I said no.  I sat up, still on his face and rubbed all around his groin area and told him to relax his legs and feet.
Then I went back to sucking and finger fucking.  Shortly he asked me again as his legs were getting more and more tense.  This time I got up and got my straps and strapped his legs to the table in and open position.  After a few minutes I was satisfied he would not be able to pull his knees together or straighten his legs no matter what.
I climbed back on his face, leaned over and took his cock in my mouth and put my fingers in his ass.  Then I began to slowly and rhythmically bob my head up and down for tip to base while simultaneously sliding my finger all the way out of his ass then all the way in pressing into the prostate.
The tension built again and this time his legs were straining against the straps.  He started bucking his pelvis up and down, slowly at first but then I gave him permission to cum and he started pumping away fucking up into my mouth until he blew a huge amount of cum into my mouth.  I didn't stop sucking or finger fucking him and as he fucked in and out of my mouth the cum dribbled down his cock and down making a sticky hot mess.  Finally he relaxed, spent, and I released his cock from my mouth and removed my finger from his ass.