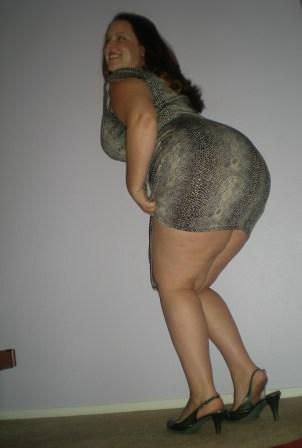 Once I caught my breath and came back into myself I asked if he'd like to see my lingerie.  Keeping my high heels on I turned my back to him and slowly pulled my dress up exposing my thigh high nylons, black lacy panties and black corset.  He embraced me from behind and pressed his hard dick against me.  With one arm around my waist and the other hand on my throat he turned and pulled my head gently back to kiss him long and deep.  I told him I was wet and asked if he would like to feel it.  He released his hold on my and I leaned forward over a table as he ran his finger along the edge of my panties against my ass cheek all the way to my pussy.  With one finger he gently grazed my vulva lips.  I was so aroused my wetness was there for him to feel.
Moving his finger up and down my lips he slowly applied more and more pressure and the tip of his finger slipped into my slit.  He found my swollen erect clit right away and began rubbing it, all the while I stayed bent over the table.  Once he pushed his finger inside my vagina I couldn't hold myself still.  I began fucking back onto his finger.  After a few minutes of this I asked if he would like to move to the bed.
Once on the bed I began to massage his back.  He made it very difficult because he started playing with my pussy!  I massaged his butt and the backs of his thighs drawing my hands nearer and nearer to his asshole.  Then I gently spread his ass cheeks and ran my fingertip all round his anus for a minute before leaning over and using my tongue.  Starting out with light pressure I ran the tip of my tongue all around the rim of his asshole.  Flattening out my tongue I licked big long licks up his ass crack, just over his asshole at first but with each lick I moved down a little more until I was licking from the base of his hard cock up to his tailbone.  In the meantime he had lifted up from his stomach to be on his knees so he could stroke himself as I licked.