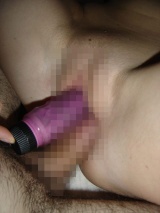 Double Vaginal. Penetration. Something that as soon as I heard about it I knew I wanted. I had a guy tell me about it once and he said it could only be done with 2 bare cocks so I thought it was something I would never get since my husband is the only one I go bare with. One time, after my young boy toy and I had been fucking all day and I still wanted more I was leaned back against the massage table and he was fucking me with a dildo. Then he got hard again and took out the dildo to use the his cock.  After a few strokes he got a wicked look in his eye and got the dildo and put it in my pussy with his cock and fucked me with both at the same time until I had a mind shattering climax!
I thought that was the closest I would get. Until this experience…
It all started when my friend and I got to his hotel room. They began to chat while I got on my knees in front of him and started nuzzling his groin. I love scraping my fingernails over taught pants covering a hard cock. I can feel it pulse and he can feel the vibration. I also like to put my mouth over the cock and exhale hot breath out onto the pants and cock feeling his whole groin warm up.
He stood up and I took his cock out to suck it – to explore it with my mouth – as I gently scraped my fingernails against his scrotum. I took his cock deeper and deeper with each bob of my head. I love the sensations of the smooth skin sliding in and out of my lips, the round head penetrating the back of my mouth and going down into my throat, causing the gag reflex with every few thrusts and producing ropes of saliva to help me take the hard cock in more and more smoothly.
To be continued…