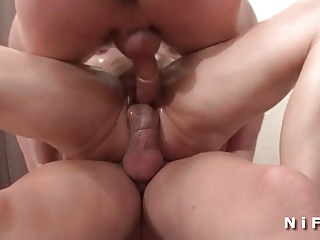 Mommy told me to get on top of Daddy.
I mounted him and after a few times sliding up and down his cock she got behind me and slid the strapon dildo into my asshole. After we got situated I began pumping my hips in big circles with the dicks taking turns moving in and out of my holes. They were taking such good care of their little girl!
I asked if they wanted to increase the intensity a little. I asked her to change condoms. Continuing to straddle him with his cock in me, she got behind me and Iheld still as she slid her cock into my pussy as well stretching it to the limit. We held that position for a bit and as I adjusted to the stretching sensation I began bouncing against the 2 cocks. All I could think about was the sensation in my pussy with it being so full!
Daddy wanted to cum with Mommy so I lay next to them masturbating as she rode him. She came several times and as he was shooting his load I had my final and largest orgasm.  We came together like a happy family.