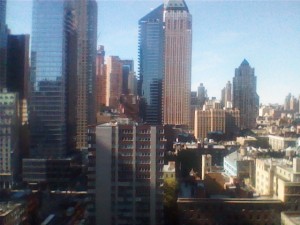 I've been having a bunch of great experiences!  Here are a few worth mentioning –
I got to be with a Hasidic Jew for the first time.  I've always been sooo curious about their hair and their clothes and now I know… It is always so kinky when I'm with someone who is very conservative in their everyday life and chooses to see me to indulge with:)
I had an appointment that was supposed to be role-play fun and turned into a talk therapy session.  I see a lot of people who have a hard time reconciling the differences between their desires and how they think they "should" be, meaning they desire the experience of going outside their marriage, being totally sexually free with someone, but their own definition of what a good husband/father/citizen is does not include that kind of freedom.  So they are forever having to deal with the internal conflict.  On the one hand there's excitement and on the other shame and guilt.  We talked for our time together and I showed him my program for frustrated lovers.  If you are interested shoot me an email and I'll tell you about it too.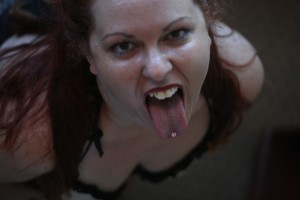 I had one client who I was performing analingus on and his hair in that area got wrapped around my tongue ring!  I couldn't believe it.  I was stuck with my face in his ass and it was so hilarious I was laughing hysterically!  He was chuckling too… but he sounded a little nervous…  I tried to unscrew the ball of my tongue ring but my hands had lube all over them so I couldn't get a grip!  Finally I calmed down enough to somehow get free.  That was toooooo funny!
Now I have two nights left.  I'm really excited for tonight – I have a long date with dinner and everything.  I'm staying down by Times Square.  Then tomorrow I move to a hotel West of Central Park.  Then Friday I'm back home to my family.  My 8yr old daughter and husband miss me horribly.  Ah well, absence makes the heart grow fonder and as much as I miss them and everything else in Las Vegas I truly enjoy traveling, seeing new things, meeting new people, staying in hotels and then coming home to a happy welcome.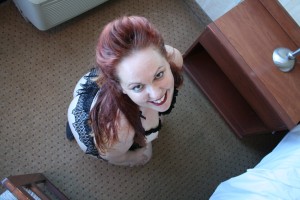 If you would like to order the pictures from this photo shoo tlet me know in the comments below.  I have 43 pics of me wearing this nighty in different poses, only breasts exposed … these are un-edited.  I would ask $20 for the set.