All 3 of us got completely naked and went to the bed. He lay down on his back and I watched as she slowly approached his hard cock and took it in her mouth. There is this amazing sensation when you are receiving pleasure from 2 different people. Each person has their own feel of course, but there is this other sensation you feel as they switch off. A feeling of your body acclimating from one person to another, from one sensation to another. It's a bit like the feeling of free-falling but completely pleasurable. I watched his face as that feeling washed over him when her mouth went onto his cock where mine had been moments before.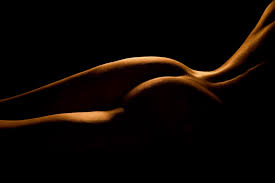 As they settled into that activity my eyes traveled down her body to land at her ass. It looked delicious and since she was on her knees giving him a blow job her butt was sticking out and up a little, cheeks round and taught and spread a little. I went around behind her and began peppering her with little pecks, each one getting closer and closer to her rosebud. When I was about to touch it with my lips I slowed way down so I could enjoy the sensation of pleasurable tension. As I approached it got stronger and stronger and I heard her moan with his cock in her mouth.
My lips came down on her rosebud slowly but firmly. I rested my face there for a moment before pulling my lips away with a big smack. Sticking out my tongue I licked all around her rosebud, on the inside of her ass cheeks, close down to her pussy, up toward her tail bone, teasing her and working her up more and more. Finally I placed my tongue on her asshole and let it sit there as the sensation of that connection sunk into my body.
When I was ready I began to move my tongue super slowly over her anus. Slow enough so I could feel every fold and crevice, so slow I could feel the different textures as I moved from place to place on her anus. With each super slow lick I pressed my tongue into her body a little more firmly, eventually sinking it into her past the outer rim and thrilling her to a new level with my super gentle penetration.
To be continued…