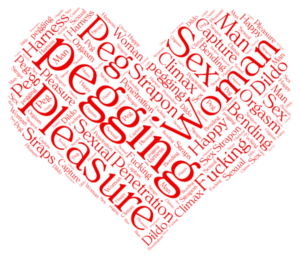 I recently had an excellent power exchange session with sensual domination.  I arrived early in the morning dressed somewhat casually. We sat and talked for a while. As it became clear that was on the submissive side, I had him rearrange the chairs, so they were face-to-face. I put my feet in his lap for him to massage as we continued to discuss what we were going to do, what his desires were, and what his boundaries were.  He could not stop commenting about how good my skin felt on my feet and legs!  I love being adored like that.
I went into the bathroom to change into a sexy black body stocking and high heels.  When I was ready to come out, I told him to close his eyes. I came out and stood in front of him with a crop in my hand and told him to open his eyes. I took his breath away. For the rest of the session, I had my way with him. We explored some flogging and spanking at first.  Then I had him lay on his back, and I told him he better hold still, or I would spank him in a way that he would not enjoy it. Then I straddled his head, putting my pussy right above his face teasing him with it. I loved feeling his excited breath on my pussy as I touched him all over his chest and belly, getting closer and closer to his hard cock. When I was ready for him to lick me, I took my panties off and told him to stick out his tongue. Again, I straddled his head, and this time I lowered my pussy onto his tongue to the point where my clit was on it directly. I enjoyed grinding on his tongue with varying intensity from soft to hard, depending on where my mood took me. And the peak of pleasure, I leaned forward and took his cock into my mouth. After not very long, he asked me if he could cum, and I said no, absolutely not.
I got up off him and said, "it's time for your inspection. Lay on your stomach". While he was changing positions, I put on my glove and got some lube.  Starting at his left foot, I bent over, opened my mouth wide, and exhaled hot breath onto the back of his leg.  I slowly moved my face up the back of his leg, letting him feel my warm breath up to his groin.  I continued with the warm breath up and down the crack of his butt.  Then, I went to the bottom of his right leg and repeated the whole thing on the right.  This time, when I finished with the hot breath on his ass crack, I teasingly licked his butt cheeks.  I started on the outside, slowly working my way closer and closer to his ass hole, eventually licking his ass. He was squirming and grinding into the bed with pleasure.  When I was ready to, I sat up and positioned myself between his thighs to massage his butt crack and his ass hole.  After a thorough anal massage, I slid my finger in and massaged his prostate. He was enjoying that, and I slowly worked him up to 2 fingers.  I determined that he was ready for the strap-on.
I put on my harness and put a dildo in it with a condom on it. I made him give head to my dildo before using it on his ass hole.   I used the strap-on as a prosthetic penis, making it feel good against my body as well.   We did several positions, some where he could feel the weight of my body pressing against his, others where I had access to stroke his penis. After a while, he felt complete with the anal play, so we decided to finish with oral.   I rewarded him for being such a good little submissive boy by worshiping his cock and balls. I sucked him to climax and swallowed his cum!
:::::
I will be visiting Pittsburgh, PA.  I will have time for sessions June 3rd and 4th.  Please let me know if you are interested:)