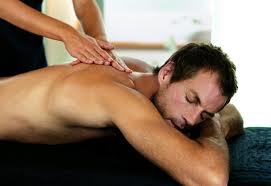 I set up the massage table and got started with the massage.  He and I talked about business, swinging and new year's resolutions.  It was nice because we really clicked.
As I finished his first thigh I massaged his groin, pulling my hands from the front side of his groin to his back side in long, slow, firm strokes.  I pressed especially hard on his sit bones while inadvertently grazing his ass crack and asshole.  I saw that he liked it because he spread his legs wider and tilted his pelvis a bit.  With each stroke I got closer and closer to the center of the crack of his ass until my stroke was beginning at the head of his cock, covering his ball sack and running up the crack of his ass to finish just past his tail bone.
Just when his cock was completely rock hard and he was starting to squirm on the table I left the area to work on his calf and foot.  I moved to his other leg and after massaging his glute and thigh I worked my way into his ass crack again to the point of him wiggling a bit.  Stopping, I moved to finish his calf and foot.
I grabbed a hand towel and told him I had to remove a little excess oil.  I wiped off his butt cheeks and the inside of his ass crack.  Climbing on the table behind him in between his legs I put one hand on each cheek and gently spread him open.  After teasing first by blowing cool air and then opening my mouth wide and exhaling warm breath air right onto his asshole, I started kissing the entire area with light little pecks.  Then I began to gently l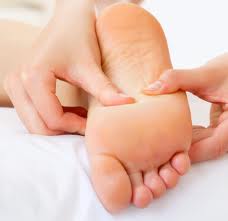 ick the area, softly at first, covering the whole area with saliva.  As I became more aroused I used my tongue more and more firmly and directly on the rosebud of his ass.  Swirling, going up and down and side to side, stopping to suck and bite on his ass cheeks, I let him hear my pleasure with moans.
When I'd had enough I got up and got out the gloves.  I trailed them along his body very slowly to give a feather light strokes.  I spent extra time around the buttocks.  I stuck my tongue into his ass crack again as I pulled each glove on.  Getting my gloved hands oiled up, I massaged the anus all around the opening.  Covering my finger with lube I slowly worked it in.  He didn't enjoy the deeper probing and massaging so I stayed shallow and used my other hand to massage his cock.
After awhile I had him turn onto his back.  He had gone partially soft as all his attention was on his anus.  Using my mouth I got his dick completely covered with saliva and then slowly started moving my lips up and down his shaft.  As soon as he came to a full erection I stopped and began to massage the front of his leg.  When I was finished with the first leg he had gone a little soft again so once again I used my mouth to gently and slowly get him hard.  He talked about how he enjoyed feeling my boobs on his leg.
Once I finished massaging his leg I rubbed oil all over his groin, belly and che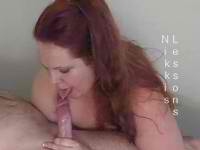 st.  Climbing on the massage table and coming up between his legs I got on my hands and knees and hovered above him.   I slowly lowered my breasts against his groin and began to grind my chest in all different directions.  Lowering my torso more, I pressed up, sliding up his belly and chest until I could feel his hard cock pressing into my belly.  I gyrated against him randomly licking and biting his chest and neck.  He told me to stop or he would cum.  I held still and asked him if he would like another position.  He wanted the same booby/body rub but on his back side.
He flipped over to lay on his stomach.  I poured oil all over his back and spread oil all over my boobs and belly.  Starting from where his head lay, I climbed onto the table, sliding my breasts down his back starting at his shoulders.  As my torso lined up completely with his I had one knee planted on each side of his head.  I spread his ass cheeks and licked some more and enjoyed the feeling of his hot breath on my inner thigh.
Continuing my body slide I got to the point where my pussy was on his ass.  I took that opportunity to grind my clit against his tailbone.  Because of all the oil my pussy lips were able to spread completely open and I could feel the texture of his skin against every bit of my vulva and inner labia as I gyrated against him.
I continued the body slide down his legs and turned around.  Putting my face to his ass again I joked about how his ass smelled like pussy and oh my gosh tasted like it too!  Again I slid up his back pressing my boobs into him until my pussy was lined up with his ass and I ground my clit into his tail bone.  I was kissing and nibbling all around his upper back, shoulders, neck and ears.  His excitement was building as he started moving around beneath me and grinding his ass up into me.
I slid back down him and told him to get on his knees.  Taking his cock in one hand and his balls in the other I licked his ass up and down the crack letting saliva drip down covering his balls and then his cock.  As they became more and more slick I continued to massage him using broader strokes.  I alternated my motions on his cock, pulling it with it pointing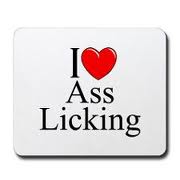 toward his chest and then stretching it back as far as it would go against his ass so I could suck on it from behind.  Several times I moved my mouth from place to place – cock, balls, ass, cock, balls, ass – until he told me he was going to cum and I made sure to keep my fist pumping his cock rhythmically while I pressed my face into his ass.  I was rewarded with the feeling of gush after gush of hot cum on my palm and running down my wrist as his pelvis jerked and spasmed against my face.