Hi!  I wrote this blog right after the session a couple of months ago but haven't had time to post it.  I'm deeply grateful that I've been so full with clients and college and teaching!  This week is the first time I haven't been booked up elbows to assholes on my schedule.
I've also been dating which has been interesting.  I'm learning a lot about myself for sure.  I've been playing more and more on the submissive side of the scale in my personal life and I love how much it informs my Pro Domme sessions.  I'm able to dominate in a way that is more saturating, integrating energy and emotions with the physical more than ever.  I have always enjoyed rough sex but being submissive is different.  It's truly vulnerable.  I've known this and that's why I've never offered it professionally.  I think the only way I could even consider doing pro sub work is for longer sessions and with phone calls in advance so I could feel safe and comfortable.  I feel honored by all those who hire me for dominatrix sessions.
:::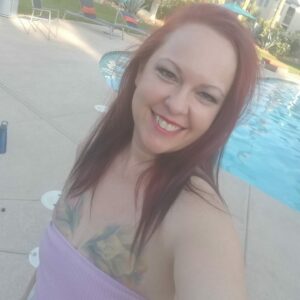 One of my favorite things just happened for the 2nd time this month. I love it when I see someone on the 1st night of their trip and they call me back a few days later because they have to see me again before they head back home. Especially when the 1st time they see me they just get the sensual massage or massage plus and then for the 2nd session they upgrade to massage with the works because they know how good my touch is and they just imagine how much better my mouth will be.
I feel so honored to have had the session that I just finished. This gentleman had never been on the receiving end of sensation play before and it was very edgy for him.   As someone who has mostly been a top but has played on the submissive side with 1 or 2 partners, I understand the deep vulnerability and trust that comes with receiving the intense sensations of impact play and playing on the pain end of the scale. The level of surrender that it takes to feel the sensations and let go of your programmed reactions to feeling pain is very deep. My friend did so well – he took so much sensation for his 1st session. I started him off slowly and easily with a suede flogger. Then I went to slapping and spanking with my hands. I gave plenty of pleasure breaks using my mouth and my tongue on his asshole and his cock. We paid attention to what his body responded to and did more of that when we wanted him to be more erect. It turned out that his body responded best to rough ball play.   There is a way that going back-and-forth from the pain to the pleasure confuses and disorients the mind.  This disorientation itself feels good because it takes over your whole mind. There is no room left for critical or analytical thinking.  There is only the present now moment of sensation and us doing this thing together.
:::
Please do let me know if you are in Las Vegas or coming to Las Vegas and would like to experience:
full body sensual massage (FBSM)
Tantra (lingam, yoni, and sacred spot massage)
prostate massage
a girlfriend experience (GFE)
strap-on/pegging
receive oral from me (BBBJ) aka cock worship and/or rimming (DATO)
lick my pussy (DATY)
play with sensation and explore fetishes

light bondage
facesitting
kinky massage/bondassage
FemDom
role play
spanking
impact play
water sports
feminization
CBT
We can go super slow and sensual using tantric techniques or have more aggressive, rough sex.
I can come to you (outcall, in-room massage), or you can come to me (incall).
Please take a moment to look at all of my offerings at https://www.lasvegasmasseuse.com/massage-plus-and-full-body-sensual-massage/
Make it a sexy day!
Nikki The Las Vegas Masseuse
7022361975 (text is best – at least at first)
lvmasseuse@gmail.com