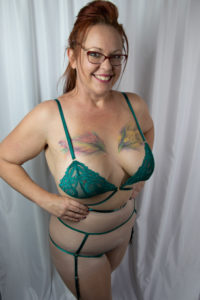 Hello! So much has happened since my last post. The world, as we knew it, seems to have come to an end. I felt it sooner than most – as soon as the beginning of the month hit, I was slow. Super slow. At first, I chalked it up to a slow week, which happens in this business, and I was not too worried. As more sessions canceled and my calendar cleared, the rest of the world changed, and I understood I was not just dealing with a slow week, that I was going to have to figure some things out.
I'm extremely grateful that in the past, I have dabbled in phone sex and webcamming because that meant I had it all set up. I've been on niteflirt almost every day, making a little bit of money. I'm grateful because it will help me stretch my savings. Luckily January and February were very good months for me, and I am coming into this month with some savings.
So – I am still working. Primarily on niteflirt doing phone sex. I will keep uploading naughty pictures for sale as I can. I am still open to seeing people in person. As always – I have a high-risk tolerance. And, I feel I'm already exposed – my boyfriend works doing Instacart (grocery delivery service), and he is out in public every day. As long as there are no symptoms or fever (and I'm able to verify you as usual) you are welcome to schedule a session.
If you have never heard of niteflirt, please do use my link to go check it out. It is an affiliate link, so I do get something if you end up spending money there. https://www.niteflirt.com/pid/29436322
Of course, if you want to have a session – over the phone or webcam – and you don't want to go through niteflirt then we could use another payment option.  I'm asking $1.97 per minute.
I could also send my naughty pics directly to you.  Right now I have a set of 12 pics – me in my lingerie and nylons – for $12.99.  You can email me directly (lvmasseuse@gmail.com) to purchase or go through niteflirt.
Thank you to those who have emailed me to make sure I'm ok.  I really appreciate it.
Update 6/12/2020 
I am not doing the phone sex anymore.  It only lasted a few weeks.  For the month of April, I started doing instacart myself.  Then clients started coming back in May.  So, between that and my coaching clients, I'm doing ok:)