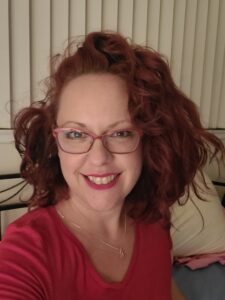 Something I've been wanting to write about but not sure where to even begin – I had total hip replacement surgery on May 17th. I'm very grateful because I'd been having pain for the past 9 years that progressively worsened. Recovery is going well, but since it is such extensive surgery, I still have to care for myself and protect the surgery site.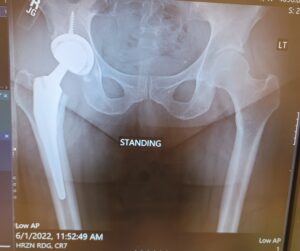 I am so happy I have finally gotten back to seeing clients! Of course, no one likes to be out of work because we need cash flow, but beyond that – I missed it! I've missed the touch, running erotic energy, and connecting so intimately as we do when we are in session.
I do have movement precautions/restrictions. On my surgery side – the right side – I cannot move my body in specific ways, and I am still weak in some ways that I can move it. Even after my precautions are lifted on August 17th (90 days post-op -yay!) I will still be unable to do all movements as I will need to stretch and strengthen the muscles that haven't been getting movement all this time.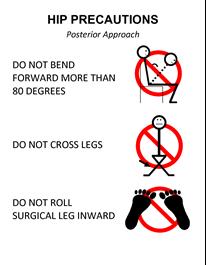 The following account from a recent session shows how that plays out in real life.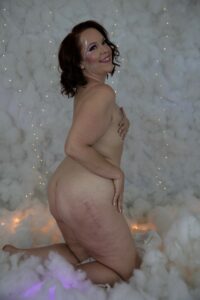 :::
I walked in the door, and right away, he drew me in close and started kissing me – deeply, demandingly, taking my mouth for the quick second that he had caught me off guard. As soon as I felt his desire and hunger, I jumped right in, kissing him back just as insistently.
It feels so good to get into a deep physical connection so quickly.
We took our time with that first kiss, standing in the entryway for a while, our hands roaming while our tongues touched.  I could feel the erotic energy running strongly between us.
I said that if it weren't for my movement restrictions, I would drop to my knees in front of him to take his cock in my mouth.
He suggested I sit on the chair, but I declined since it was too low. I asked if we could go to the bed where he could lay down, and I could worship his cock.
So we did😊
This friend is usually more dominant with me when we play, so it was a bit challenging for him to lay back and receive. He is one of the few people I surrender to – a genuinely dominant man who can take charge without taking liberties with my vulnerability.
It's a challenging balancing act.
But today, I needed to lead so I could protect my hip.
He laid on his back.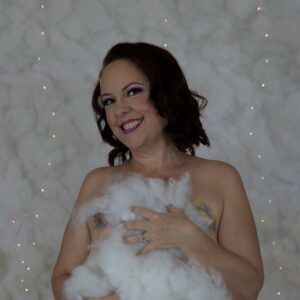 I started at his feet, touching with light touch first and then scratching, giving him many different sensations to experience on his feet, shins, and calves. Then I bent over to let him feel my breath on his skin, vocalizing my desire with moans and dirty talk.  I love being in this space where I can open up my energetic body and put into practice tantric techniques.  Being mindful and connected is exhilarating!  I pay attention to my body, specifically the subtle sensations.  I use my body as a guide to follow the sensations, and their pull, and wait to move until anticipation is high.
When I got to the backs of his knees, I slowly and methodically licked, trailing my tongue along the crease of the back of each knee. I love that posture – leaned over and reaching, my neck and tongue completely stretched out, reaching for the contact that I know brings so much pleasure.  I imagine this opens up my energy centers and chakras and allows erotic energy to flow even more freely between the two of us. As I finished licking the back of each knee, I would blow, alternating between warm and cool breath, giving him all the sensations I could.
I slowly kissed my way up one thigh, again letting him feel my breath in between pecks. As I approached his genitals, I slowed down, even more, getting as close to his cock as I could without touching it.  I moaned to let him feel the vibration of my voice.  Each chakra has its own sound, and I sang to his root chakra to arouse, relax, and balance his body and energy. Then I kissed my way up his torso, up to his nipple. I licked his nipple and played with it until the sensation was too much to be pleasurable. Putting the length of my body against his, I lay against him, letting the erotic energy ripple through me causing my hips to undulate against him, and we kissed on the mouth some more while I stroked his hair, ears, and face with one hand. He was definitely not used to being the receiver, and I decided to push the envelope a bit by using my hand to gently turn his head to the side, exposing his neck and ear. I used my lips, tongue, and teeth to give him all kinds of sensations in that area, all the while feeling our arousal build.
After some time, I repeated the process on the other side of his head and neck. Then, kissing my way down his chest, I got very close to his other nipple and played with it energetically, keeping my mouth several inches away, but he could still feel the sensation in his nipple. I kissed my way down to his groin, and I couldn't wait any longer.
I started with slow, mindful licks of his testicles. I went slow, paying attention to his taste and texture. I love the sensation of being so close to his cock, and the hardness pressing out from him, waiting to go inside me. I teased that hardness for as long as I could, but eventually, I had to have him inside me, inside my mouth.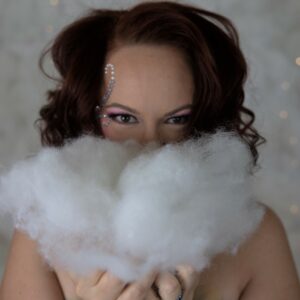 First, I drew back to look at his cock. It was extremely hard and had a pearl of precum at the tip. I stuck out my tongue to try to get the precum without touching my tongue to the head of his cock. I was successful, and I talked dirty about how good it tasted and what a nasty naughty girl I am for liking it. Then I kissed his cock, progressively taking it in my mouth deeper and deeper inside until my mouth was wrapped entirely around it.
I took my time with it, bobbing slowly with my tongue swirling around with every bob of my head.  I spent a long time using my mouth and hands in all sorts of different ways, talking dirty whenever my mouth wasn't full. Several times he asked me to pause as he hung on the edge of climax, enjoying that sensation.
We started talking about him cumming, and where he would like to do that. We decided it would be hottest for him to rub his cock against my ass. I got a couple of pillows to put under my torso and bent over the foot of the bed. Reaching back with one hand, I gripped my butt cheek and moved it around as he rubbed his cock on me, the sensation growing more intense with each second until he had to cum all over my ass! It was so hot and nasty – as he backed away from my body, his cum dripped onto the floor.
So much pleasure!
:::
Please do let me know if you are in Las Vegas or coming to Las Vegas and would like to experience:
full body sensual massage (FBSM)
Tantra (lingam, yoni, and sacred spot massage)
prostate massage
a girlfriend experience (GFE)
strap-on/pegging
receive oral from me (BBBJ) aka cock worship and/or rimming (DATO)
lick my pussy (DATY)
play with sensation and explore fetishes

light bondage
facesitting
kinky massage/bondassage
FemDom
role play
spanking
impact play
water sports
feminization
CBT
We can go super slow and sensual using tantric techniques or have more aggressive, rough sex.
I can come to you (outcall, in-room massage), or you can come to me (incall).
You can find all my rates at Las Vegas Masseuse – Therapeutic, Sensual and Kinky
Make it a sexy day!
Nikki The Las Vegas Masseuse
7022361975 (text is best – at least at first)