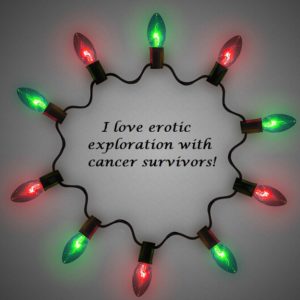 I have several client friends who are survivors of cancer.  They are some of my favorite people to work with – for a couple of reasons…
Attitude – people who have survived a life-threatening illness often have an attitude of gratitude that feels good to be around.  When I do a full body sensual massage we can create synergy and feed off each other's good vibes.
New Again – when you have a huge change to your body you have to re-learn everything about it.  I love popping cherries so I thoroughly enjoy being right there to explore and expose wherever pleasure might be.  I love exploring rimming, anal penetration both manually and with a strap-on, and seeing how different types of stimulation feel during a blow job (BBBJ).
Something Different – whenever someone asks me what my type is or what kind of things I like my answer is that I like variety.  Being with people who have had treatments for cancer present new challenges (which I like).  They may have physical differences.  Missing testicles and prostates (once I had someone who had no anus) are interesting.  Not desired, I know, but since that is reality for these client friends I choose to embrace it and explore it.
Being a resource – there are not many providers (escorts) who are educated medically.  I do have training specifically around the pelvic floor, genitals and anal area.  I'm actually able to have an intelligent conversation about what is going on and it's impact on sexuality and intimacy.
Loving Touch – many of my client friends (not just cancer survivors) have tried many things to find some way to receive loving touch.  I've heard crazy stories from bad rub and tug experiences to rejection from lovers and dates.  I'm grateful I can provide a very loving and caring session full of sensual touch and intimacy while fully accepting my receiver for exactly who they are.
When you come to see me if you have any medical thing you are dealing with feel free to tell me about it and I can incorporate care for that into all the other kinky sexy things we do.
I'm your girl if you are looking for a Las Vegas Escort, Las Vegas Masseuse, Las Vegas Tantra, Las Vegas Full Body Sensual Massage (FBSM), Redhead Escort, BBW Escort, Mature Escort.  7022361975 even if you have had testicular cancer, prostate cancer, colon cancer, anal cancer and more.