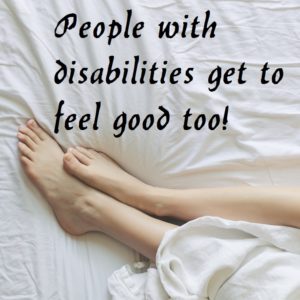 I feel so lucky to have the honor of having sessions with people who are dealing with serious illnesses such as Cerebral Palsy, Multiple Sclerosis and ALS/Lou Gehrig's Disease.  The reason I feel it is an honor is because often these people don't get touch and love in the way many of us take for granted.  It makes me so happy that they are seeing me and getting their needs met in a healthy way with me.  The person I saw today for example was the nicest guy and let me know that this was probably his last trip he would take before he would have to be confined to a wheelchair.  I made sure to take my time and give him all the loving tender affection that I normally do.  
We started out talking and getting to know each other a little bit.  I did my little strip dance that I do where I hum a stripper song and jokingly lightheartedly remove one piece of clothing at a time.  Then I started to give a sensual massage the front of his body where I got to feel one side was cold while the other was warm.  One side just isn't working anymore like it should for him.  I teased him kissing up his inner thighs.  I kissed lightly up his body until my mouth was on his ear where I nibbled all around the outside of his ear and then sucked on his ear lobe.  I even had him turn his head more to the right so I would have better access to tease and let him feel my breath on his ear and his neck.  I kissed his shoulder and his arm and teased licking lightly all around his armpit.  Licking in the armpit area can be extremely erotic and intimate because it's a place where no one else usually goes on our body.
To Be Continued…
If you have a neurological disorder such as Cerebral Palsy, Multiple Sclerosis or ALS and you would like to have a FBSM (sensual massage / erotic massage) or 'Massage With The Works' (girlfriend experience / GFE / Full Service) with a BBW Las Vegas Masseuse / Redhead Escort / Voluptuous Companion / Mature Companion please send me an email or text me at 702.236.1975 and we can have a session that can include silly stripping, massage, tantra style touch, and kissing.