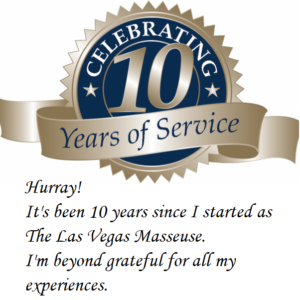 It is amazing and I am so grateful that I have had the opportunity to work with thousands of people to help them experience relaxation and stimulation in such amazing ways.  I remember when I started giving massages 10 years ago and how nervous I was.  I got over that very quickly when I realized how much relief and pleasure I was able to bring to my clients.  I remember the first time I got a request to give a massage to someone in his office after hours and I went and bought my first massage table.  Then, about a year and a half into giving FBSM I expanded my offerings to include more intimate and kinky experiences…  More nudity, full service, BDSM, strap-on play – whenever someone requested something that I had never done before I researched it and learned how to do it so I could provide the experience they were looking for.
So many firsts!  And now I get turned on giving other people their "firsts".  I love it when I give someone their first prostate massage or they experience cock worship for their first time.  I am so confident in my skills that I'm able to put people at ease if they are nervous and my clients trust me in the most intimate of ways.
I will be putting up a new video check in soon.  I am starting a new youtube channel because my last one was too lascivious and got removed LOL.  I'll have to be more careful with this new one.  I'm just hoping I have some of my better videos still on my computer.
In the meantime – please text me at 7022361975 if you are in Las Vegas and looking for a Las Vegas Escort, Las Vegas GFE, Las Vegas Masseuse or a Las Vegas Dominatrix so that you can experience tantra massage, sensual massage, prostate massage, prostate milking, cock worship, face sitting, annalingus, strap-on play and more.